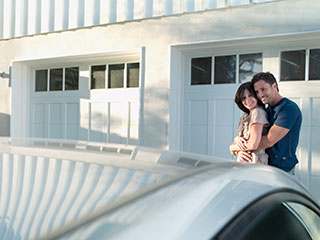 There is so much that you can do with the garage door at your house. People only think of it as something that grants them access to their garage and vehicle. However, at times when it is not being opened or closed, it can serve the purpose of a lovely wall that you can use for a number of different activities. If you are looking to spend some quality time with your loved one on Valentine's Day, then you should consider including the garage door in your plans. With a bit of creative decoration, the garage door can be transformed into a wall of romance. If you are not quite sure about how to approach this, then look at the ideas we have for you below:
A Painter's Canvas

There is nothing quite as exciting as painting on a wall. Since you can't afford to ruin the beautiful walls inside your house, why not try to experiment with your garage door on Valentine's Day? You could paint the door to create a spectacular message of love for your significant other. For instance, you could smear pink paint all over the garage door, draw a pretty heart at the centre with red paint and then write a few romantic lines in white paint to give your special one a breathtaking surprise on the morning of Valentine's Day. If you don't feel like getting in touch with your creative side that early in the morning, you can simply ask your loved one to splash the colors of love on the garage door to take part in a fun and engaging Valentine's Day couple's activity.

A Walk Down Memory Lane

If you have been in a relationship with your special one for quite some time, you may want them to take a stroll down memory lane with you by looking at photos from yester years. For those who have a particularly huge collection of photos, it would make sense to have several of them attached to the garage door to create an enormous, yet adorable collage that will blow away your loved one as soon as they lay their eyes upon it. There is something truly surreal about having numerous special photos pasted on a wall, and in outdoor conditions, this garage door collage will indeed be a sight to behold.

A Colorful Photo Booth

Sticking with photographs, you could also set up a photo booth right in front of your garage door to make your Valentine's Day a bit more colorful. This idea works really well if you have guests coming over to your house, especially if they are couples who would love to have their photographs taken in front of a beautifully decorated door. To make things even more interesting, you and your partner can design handmade props that people can use while taking photographs. The garage door can be covered with flowers, wreaths and satin hearts to make it appear as though the photo is being taken in an amusement park for lovers. Not to mention, the outdoor setting is going to make those photos look absolutely spectacular. This is the perfect example of how a garage door, which most people describe as mundane and trivial, can be turned into a romantic element that fuels the celebration of love on Valentine's Day.