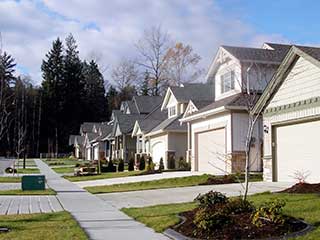 Having some difficulties with the door in your garage can throw your whole day for a loop. Problems like broken garage door springs, opener remote not working, and rollers popping out of the track all need fast fixes to let you get back to your planned day. Well, have no fear! With help from Garage Door Repair Plymouth, you can get low-cost solutions at the quickest response times. Whether it's a garage door off track that needs adjustment or a broken spring you need to replace, our local repairmen are at your service all week long (and weekends too).
Garage Door Opener and Remote Troubleshooting
The main benefit of having an automatic overhead garage door is that you can control it with remote options. However, when it starts giving you trouble and no longer responds to the remote, it becomes an inconvenient hindrance. Troubleshooting and repairing garage door openers takes some skills and experience, and most importantly an understanding of how these machines work. Sometimes the problem even lies in the opener remote not working and not the main motor and logic board. Whatever the case, with excellent Plymouth garage door opener repair services provided by our local technicians, you'll have the issue sorted in no time.
Replacing a Broken Garage Door Spring
This type of problem presents quite a pickle, as it makes the system unsafe to use until it's solved. Broken springs on the garage door mean that the mechanism lacks the main muscles it uses to lift and stabilize the door. While the springs may not seem like too much of a hassle, they're actually quite dangerous to mishandle. Garage door spring replacement requires a serious approach, as one could get seriously hurt when not careful. We offer a same-day broken spring replacement for garage doors in the Plymouth area. So when you have a problem with springs or cables, you can reach out for a fast solution.
Quickest Repairs For Plymouth Garage Doors
All sorts of other issues can require some urgent assistance. The garage door getting off track because a roller popped out, for example. Or a lift cable off the drum type situation. Any problem you run into, you have available solutions at affordable rates. When you need emergency garage door repair services near Plymouth, give us a call and get a quick response. Solutions provided on every day, including holidays and weekends.