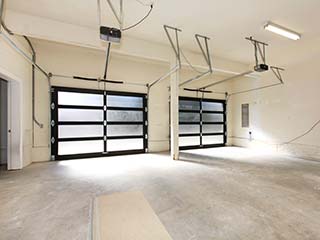 Any problem you weren't expecting can become a real hurdle when you're in a hurry. Garage door springs breaking or the opener not working are not things you want to deal with when you don't have time and you need to go somewhere quickly. It's for urgent problems like these that Garage Door Repair Plymouth offers same day solutions and emergency repairs. Whenever something goes wrong and you need the fastest, reliable fix, we're there to help.
Broken Springs Replaced ASAP
Of all the potential problems you can experience with garage doors, broken springs are by far the most common. Unfortunately, they're also perhaps the most dangerous. The tension that the springs carry in their coils makes replacing them and installing new ones potentially very risky. That is if you don't have experience doing this, and expert training. Replacing broken garage door springs for Plymouth area homeowners for many years has taught our technicians how to complete this sort of task not only quickly, but safely as well. You can get this problem solved in no time at all when you let our professionals take control.
Fixing Garage Door Openers – Troubleshooting Experts
Any problem that makes it harder to use the automatic garage door is often due to the opener. This device controls the movement of the panels and also supplies the power to start lifting them. As a result, you're very much dependent on the garage door opener working, not giving you trouble and deciding to only lift the panels halfway or reverse the door with no rhyme or reason. Whether you need LiftMaster garage door opener troubleshooting or help with models from any other brand, our local repairmen can get the problem sorted very quickly. Opener repairs can involve the motor gears, a broken chain, the trolley, or even the internal logic board. Wherever the problem lies, our professionals will locate and solve it.
Plymouth's Best Garage Door Repair Pros
Always let us know when you've got a problem you need solving quickly. With the fast assistance, provided seven days a week, you can go back to your daily plans without wasting any time needlessly. Garage Door Repair Plymouth ensures your problem gets fixed fast and you don't pay extra for it. Need help with something? Reach out to us anytime by phone or online for the fastest repairs for garage doors in the nearby area.